Information about flights from Niš have been updated on 1st of March.
Due to the situation with COVID-19 only some of the previous flights are now available.
Fly from Niš to the most significant European destinations. Currently three airlines departure from Constantine the Great Airport - Air Serbia, Wizzair and Ryanair.
Find and book tickets for popular destinations like Vienna, Memmingen, Frankfurt, Basel...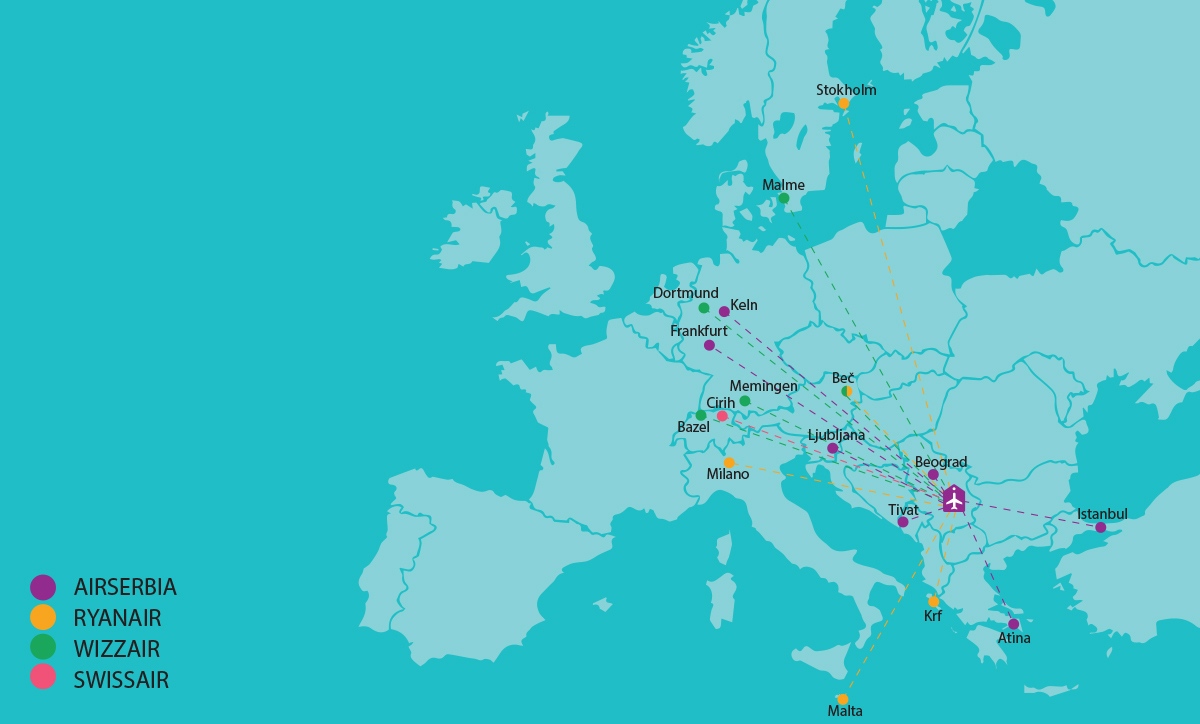 DEPARTURE

Niš - Istanbul
Tue: 18.50h - 22.15h
Sat: 14.05h - 17.30h
Niš - Ljubljana
Thu: 18.40h - 20.35h
Sat: 16.20h - 18.15h
Niš - Cologne
Thu: 20.25h - 22.45h
Sat: 17.10h - 19.30h
Niš - Frankfurt (Hahn)
Thu: 14.40h - 16.55h
Sat: 07.00h - 09.15h
Niš - Belgrade
Fri: 05.05h - 09.40h
11.00h - 11.40h
Sun: 04.50h - 05.45h
08.50h - 09.30h
Niš - Athens
Wed: 06.10h - 09.05h
Sun: 06.10h - 09.05h
Niš - Tivat
Wed: 12.00h - 12.55h
Sat: 15.10h - 16.05h
RETURN

Istanbul - Niš
Tue: 18.40h - 18.05h
Sat: 18.15h - 17.40h
Ljubljana - Niš
Thu: 21.10h - 23.00h
Sat: 18.55h - 20.45h
Cologne - Niš
Thu: 23.25h - 01.30h
Sat: 20.15h - 22.20h
Frankfurt (Hahn) - Niš
Thu: 17.35h - 19.45h
Sat: 09.55h - 12.05h
Belgrade - Niš
Thu: 13.20h - 14.00h
17.10h - 18.05
Sat: 00.15h - 00.55h
14.50h - 15.45h
Athens - Niš
Wed: 06.40h - 10.40h
Sun: 09.40h - 10.40h
Tivat - Niš
Wed: 08.40h - 09.35h
Sat: 13.35h - 14.30h
DEPARTURE

Niš - Malta
Fri: 10.50h - 12.40h
Mon: 19.35h - 21.25h
Niš - Vienna
Tue: 10.05h - 11.35h
Sat: 14.55h - 16.25h
Niš - Milan
Tue: 14.35h - 16.25h
Sat: 13.45h - 15.35h
Niš - Stockholm
Thu: 13.05h - 16.00h
Sun: 13.05h - 16.00h
RETURN

Malta - Niš
Fri: 08.25h - 10.15h
Mon: 17.10h - 19.00h
Vienna - Niš
Tue: 08.10h - 09.40h
Sat: 13.00h - 14.30h
Milan - Niš
Tue: 12.25h - 14.10h
Sat: 11.35h - 13.20h
Stockholm - Niš
Thu: 09.45h - 12.40h
Sun: 09.45h - 12.40h
DEPARTURE

Niš - Basel
Tue: 11.55h - 14.05h
Sat: 11.55h - 14.05h
Niš - Memmingen
Tue: 11.40h - 13.35h
Sat: 11.40h - 13.35h
Niš - Malmo
Mon: 11.15h - 13.40h
Fri: 11.15h - 13.40h
Niš - Vienna
Mon: 10.20h - 11.40h
Fri: 09.15h - 10.30h
Niš - Dortmund
Wed: 11.00h - 13.30h
Sun: 11.00h - 13.30h
RETURN

Basel - Niš
Tue: 09.15h - 11.20h
Sat: 09.15h - 11.20h
Memmingen - Niš
Tue: 09.15h - 11.05h
Sat: 09.15h - 11.05h
Malmo - Niš
Mon: 08.20h - 10.40h
Fri: 08.20h - 10.40h
Vienna - Niš
Tue: 18.55h - 20.20h
Sat: 18.55h - 20.20h
Dortmund - Niš
Wed: 08.15h - 10.30h
Sun: 08.15h - 10.30h